Joint Ventures

NILKAMAL BITO STORAGE SYSTEMS P. LTD.

BITO Lagertechnik and Nilkamal have pooled financial and technological resources with the intent to jointly design, construct and operate a world-scale manufacturing facility in Samba, Jammu & Kashmir to manufacture storage solutions for Indian Industries. Through this manufacturing partnership, Nilkamal and BITO serve various Indian industries with the latest and most efficient warehousing technology and as a reliable and innovative partner in planning and realising complex storage and picking solutions.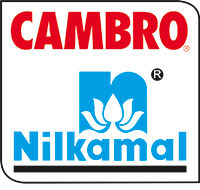 CAMBRO NILKAMAL P. LTD.

Nilkamal has entered into a joint venture with Cambro USA. This joint venture combines the global resources and expertise of Cambro, with the nationwide sales and service strength of Nilkamal Limited.
This joint venture symbolised each organization's strong commitment to provide food service operators in India with a single source for with products designed to make operations safer, more efficient and more profitable.
The product lines for the joint venture will include trays, table service and display items, storage, shelving, merchandising and insulated transport products, warewashing systems and healthcare meal delivery solutions.